I don't know about you, but more often than not I am definitely guilty of skipping moisturising after showering. I love love love having soft skin but I really hate waiting for body butters and moisturisers to dry. Who has time for that in the mornings? So here are a few of my favourite go-to products for speedy soft skin:
Vaseline Spray & Go
I first saw these a few months ago on British Beauty Blogger and they were recently released in stores here (I'm sure you've spotted the huge displays in Boots!). The clue's in the name with this one.You really can just spray and go! It' so quick but doesn't compromise on results, you're left with really soft skin. I use this pretty much daily and I think it's one of my all time favourite products now! At £4.99, it's modestly priced too. I chose the aloe vera, which is really nice and fresh in the mornings. There's also a cocoa butter scented version or one that's infused with oat extracts. Pick your favourite up
here
.
Nivea In-Shower Skin Conditioner
Having seen the advert for this multiple times, I was very sceptical at first, but now, having tried it, I could not love this more! If you don't already know about the skin conditioner, it basically works like hair conditioner, so you apply in the shower and rinse off before you get out. Now I'm sure this isn't the first in-shower moisturiser out there, but it's the first one I've tried and it was quite exciting! I was left with silky skin almost straight afterwards and it seemed to just get softer throughout the day. There was no oily, coating type feeling like I'd expected to either. Again there's more than one kind, one for normal skin and one for dry. Get either
here
.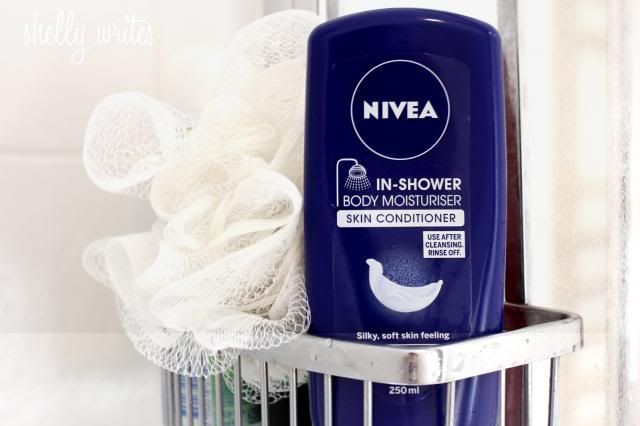 What do you think of these? Are there any other quick moisturisers you like?